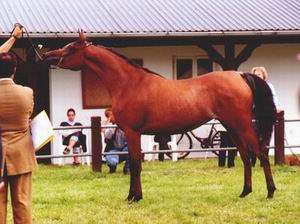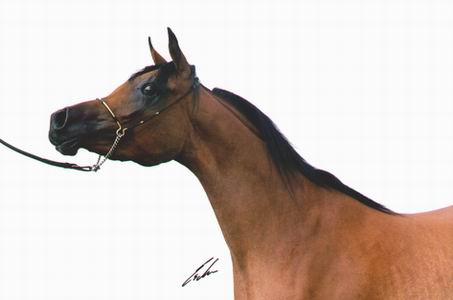 Fotos 2000 Copyright by Erwin Escher

The very typey straight egyptian mare BINT KAHILA originate from a great combination
sired by AL KIDIR and the famous KAHILA III .
Born in 1997 at the well known straight-egyptians-breeder Siegfried Kübe-Brigittenhof.
In infant foal age , the long-legged and extrem moving mare, came to Susanne + Axel Reiter
and in 2000 next via Training-Center Frank Spönle to us.

Her pedigree and her appearance bring a fair number of egyptian focussed breeders
to wistfully reveries.
Her first foal AL KHAYYAT by ALI VALENTINO 2001 was named Reserve-Foal-Champion
at the international C-Show at Velgen.

April 14, 2003 she gave birth to the filly PYRAMID LAHARA "K" by the successful LAHEEB son:
AL LAHAB (out of THE VISION HG) a show horse with extrem type and motion.

BINT KAHILA x AL LAHAB :
2004, April 17. we get a further foal out of this successfull breeding-combination.
Breathtaking type, with long legs, beautifull topline, will get a grey stallion
- without any marks: PYRAMID LAYYAN "K" one more premium foal from AL LAHAB.


2005, March 20. 9.40 p.m. she arrived PYRAMID NOUR EL NIL "K"


2007, June 05. one more foal was born out of the combination with AL LAHAB
who was named World-Champion at WHC Paris 2006.
It´s a filly and was named PYRAMID KAHILEH "K".

End of May 2009 PYRAMID RAISA EL NIL "K" a filly by MH RICHTER was born.

PYRAMID SABEEL "K" a colt by SHAGRAN AL NASSER born 2010, May 30.
his second name is "Stretchy Boy" for action and high knee activity in his movement.