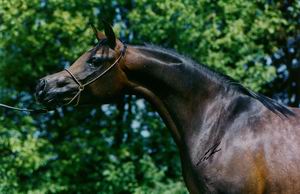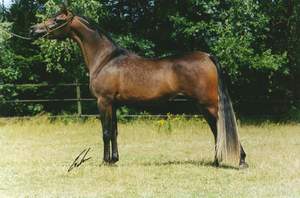 Fotos Copyright by Erwin Escher

One of the pearls - the straight egyptian broodmare PYRAMID SET EL NIL
breed 1996 by Bodo Brechlin, a combination out of ANSATA EL SALAAM
and GHANDOURA EL SAGHIRA. Close related to MASRI EL SALAAM.

Her mother GHANDOURA EL SAGHIRA is a grandchild to GALAL.
In her strain the origin Kuhaylan Rodania mare MALAKA.

The crossing to ANSATA EL SALAAM - one more breeding-success.

Multi-Champion-Mare PYRAMID SET EL NIL was also a Multichampion-Producer .
Click at Pyramid Set El Nilīs success in the showring and our 2002 breeding success ,
one of the first straight egyptian offspring sired by the young stallion AL LAHAB -
the marvellous filly PYRAMID LANEYA born 23.Juni 2002. Look at her - isnīt she fantastic?
At February 19. 2004 Pyramid Set el Nil gave us an other fantastic filly sired by
the wonderful young Stallion AL LAHAB. Click here to see PYRAMID LUTFIYAH .
2005 July 02, PYRAMID SET EL NIL gallopps over the rainbow-bridge
to the other side - the everlasting green pastures and her filly
PYRAMID AALIA .
She was in foal for may 2006 ...
PYRAMID was part of our family - we never forget her ...